Happy Tuesday!
Linking up at Not Just a housewife, show me what ya got and Tuesday Nice to meet you blog hop... On my right sidebar >>>
And here...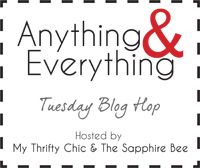 Here's an easy dollar-store DIY craft with a plain willow wreath, Easter ornaments and sewing thread... Easy peasy!
This cost... about 5 bucks total!
Take thread and measure how much you need (will be different for everyone depending on wreath size), plus a little extra for slack. You don't want it to be too taut.
Then cut three pieces the same length once you've decided how long they need to be. Attach one end to the wreath by tying it onto your wreath. You could use hot glue if you want instead.
Then start tying your Easter ornaments on to the string. I used 5, 7, 5. Odd numbers of things generally look more appealing to your eye. So once I was done attaching the 5 carrots. I tied the other end to the opposite side and started on my next string the same exact way, but added 7 carrots instead. Keep going until you're done! It's super easy and it doesn't need to look perfect. Mine ended up being a little asymmetric, oh well!
I think it's pretty cute still, though against our black door, it looks a little like Halloween decor! ;)
Have fun with it! If you want to, you could even color your carrots pastels or paint your wreath frame. I just tend to go for simple.
Happy day, friends!
xoxo- Kaara